Private and Personal instruction and Yoga Teacher Trainings
Styles Offered Below
Flow & Glow Sundays

A truly holistic vinyasa practice that includes a variety of pranayama practices, guided meditation, aromatherapy and sound therapy. A strong practice with lots of core and sequencing through downward facing dog, but balanced well with deep relaxation, stretching and hands on assists.

---

Hot Haha

Morning hatha in a subtly warm shall space. Benefit from the heat by augmenting stretching and aiding in releasing toxins and acidic build up in the body. Ideal for all levels, beginners especially encouraged to give it go!

---
---
Practice With Your Mini

An eventful hour utilizing breath, contact, chanting and movement to engage with our little ones and keep our own bodies active! Suitable for parents (dads welcome) and children put o 3 years of age.

---

Chakra Flow

A specially sequenced vinyasa flow working through the 7 main chakras. Using elements of chanting, crystals, aromatherapy, mudras, and asana to explore, store and balance each chakra. Includes a guided meditation and sound healing.

---
---
GRL PWR Fridays 5:15pm

A practice designed to address the emotional and physical needs of growing and changing female bodies. A space to hold for each other as we explore how to change mindsets, value each other and love our selves above all else!

---

Mid Day CORE & MORE

Thursdays STRONG game. Mid day core class. A short and sweet...make that STRONG class! Just an hour, and focusing only on asana this is a cardio drill based practice.

---
---
---
---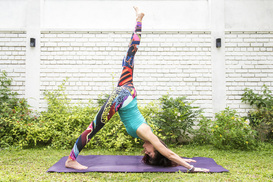 Vinyasa Flow

Vinyasa yoga is a series of poses that will move you through the power of inhaling and exhaling. Vinyasa movements are smoothly flowing and almost dance-like.

Vinyasa Flow began as Ashtanga Vinyasa Yoga by a Yogi named Sri Tirumala Krishnamacharya. He was given a place to teach yoga and eventually taught a young boy named Parrabhi Jois his learnings on the power of breathing. Jois then established an institute for practicing the specific form of Vinyasa yoga.

Like all styles of yoga, Vinyasa has both mental and physical benefits. Physically, sweat expels toxins and re-energizes your body. Mentally, the synchronized breathing relaxes your mind and helps to release any blockage of energy flow throughout your body.

---
Hatha

The word hatha means willful or forceful. Hatha yoga refers to a set of physical exercises. Designed to align your skin, muscles, and bones. The postures are also designed to open the many channels of the body—especially the main channel, the spine—so that energy can flow freely.

Hatha is also translated as ha meaning "sun" and tha meaning "moon." This refers to the balance of masculine aspects—active, hot, sun—and feminine aspects—receptive, cool, moon—within all of us. Hatha yoga is a path toward creating balance and uniting opposites. In our physical bodies we develop a balance of strength and flexibility. We also learn to balance our effort and surrender in each pose.

---